LDV is a fast-growing company that offers engineering services to the energy, transportation, industrial manufacturing and hi-tech sectors.
LDV is staffed with people who are talented, passionate about their work and have a desire to take up new challenges.
Joining this young dynamic team, comprising members of all ages who have fun working together, can only be inspiring.
A Team of Dedicated Professionals
Each of our team member's expertise contributes to the company's success. That is why at LDV, each member is an important link in the chain. Given that everyone is directly involved in expertise development and LDV's growth, the entire staff enjoys developing the solutions needed to carry out the projects entrusted to them!
Helping Each Other Above All Else
Working at LDV means taking the risk of getting a NERF dart shot at your forehead, exposing yourself to the President's puns, having your colleagues sing you "Happy Birthday", messing up a karaoke classic and many other things. As a matter of fact, the company relies on collegiality and trust between employees to carry out the projects. We are all moving in the same direction, motivated by a spirit of helping each other rather than competing against each other (except at Babyfoot, where the competition is fierce).
Diversified Expertise
LDV offers its engineering services to various fields of activity. This encourages the sharing of knowledge and the learning of several areas of expertise. The diversity of our mandates allows our employees to regularly leave their comfort zone and participate in interesting and diverse projects. It is with pride that everyone develops their skills through great, inspiring projects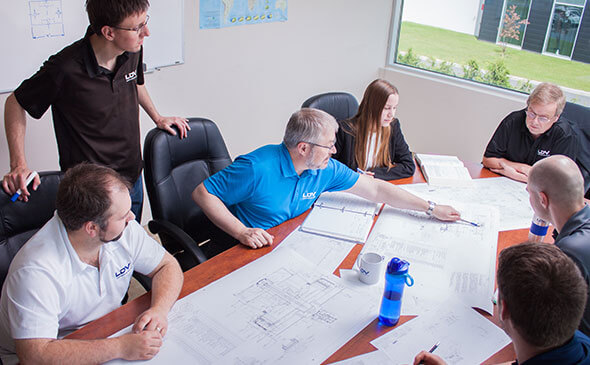 Our Diverse Talents
Mechanical Engineer
Mechanical Technician
Mechanical Engineering Trainee
Marketing Trainee
Project Manager
Computer Simulation Analyst
Industrial Designer